When shall I use ArchiMate?
When shall I use Labnaf ?
Answer
Use ArchiMate only for simple or isolated project architecture
Use Labnaf if you want a complete professional solution for driving transformations as a team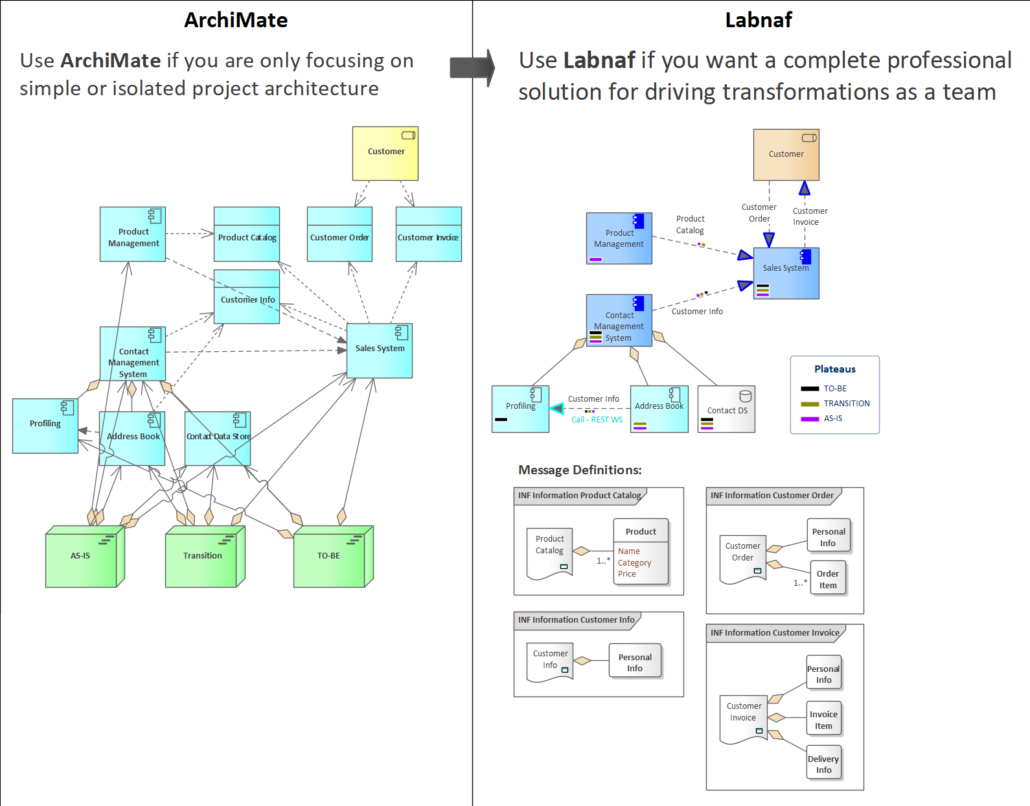 Sample ArchiMate modeling issues that will make you upgrade to Labnaf
Which elements are applications managed in my application portfolio?
Which ones are components?
Which ones are data stores?
How do I model levels of details; How do I manage complexity?
How do I model a message flow?
Which information is used in which flows?
Which information is flowing in which direction?
How do I make sure people can't create flows mixing levels of detail?
How to I define messages and message content?
How do I model plateaus on connectors?
How can I hide and show elements (not) belonging to a certain plateau?
…
Sample scaling issues that will you make upgrade from ArchiMate to Labnaf
How can I make diagrams simple to read and unambiguous?
How does the language integrate in a complete framework?
How do I integrate other standards in that framework?
How do these standards integrate in a precise and actionable transformation process?
What exact views are used and produced throughout the process?
How can I integrate enterprise architecture, solution architecture, strategy and roadmapping in a repository at large scale?
How can I make my metamodel easy to read and to customize?
How can I make sure my key diagrams are complete and have a consistent look and feel?
How do I specify automatic calculations?
How do I specify and generate Excel reports?
How do I schedule tasks?
How do I apply governance for my enterprise visualization, for strategy and for project architecture?
…
https://www.labnaf.one/wp-content/uploads/2018/08/labnaf_logo.png
0
0
Alain De Preter
https://www.labnaf.one/wp-content/uploads/2018/08/labnaf_logo.png
Alain De Preter
2020-04-28 14:44:38
2020-12-24 12:34:43
Labnaf vs ArchiMate - When to use which
How can we make sure that our user community gets the right Enterprise Architect configuration? How can we automatically configure their user experience so that it is adapted to our company-standard modeling language (MDG)?
You will find in this document a set of guidelines and examples for tailoring and deploying a Sparx Enterprise Architect configuration.
Out of the box, Sparx is optimized for UML modelers. So, if people in your organization need to model with another language than UML, then you might need to adapt the Enterprise Architect user's experience and modeling constraints. The following guidelines will help you configuring this either manually or automatically.
Target audience of these guidelines
The community of modelers working at higher levels of abstraction than UML, for example users of the Labnaf, Archimate or BPMN modeling languages. The default Enterprise Architect configuration does not always bring the required user's experience.

Sparx MDG (Model-Driven Generation) and add-in developers who created their own modeling language and who want to deploy their Enterprise Architect extension on end users' computers.
https://www.labnaf.one/wp-content/uploads/2018/08/labnaf_logo.png
0
0
Alain De Preter
https://www.labnaf.one/wp-content/uploads/2018/08/labnaf_logo.png
Alain De Preter
2018-10-15 17:00:48
2021-01-13 14:53:05
Tailoring and Deploying a Sparx Enterprise Architect Configuration