Flexible pricing, affordable products
for single individuals and complex organizations
Cloud or On-Premise
---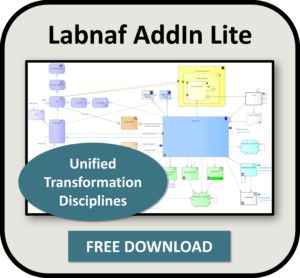 Trial version for the single-user chief architecture, enterprise architect, strategist, demand manager, capability planner, project portfolio manager, business architect, application architect, information architect, solution architect, cloud architect, technology architect, robotics architect, architecture portfolio manager, or analyst.
---
Take this training (almost free) to make the most of Labnaf
---
Modeling any aspect of enterprise transformations
On-line help and self-paced training courses on Udemy
Labnaf modeling language based on pure systems semantics and supporting the end-to-end process of driving transformations
Labnaf modeling diagram types/viewpoints
Flows of viewpoints covering the entire process
Labnaf modeling toolboxes
Dynamic model validation based on a default metamodel
Default metamodel covering the entire process of driving transformations including enterprise architecture, strategy definition, strategy execution (business architecture, strategic planning…) and solution architecture
Startup repository structure – Lite edition
Sparx Infrastructure (October 2021 prices)
Required – EA Professional
€ 199 /license (perpetual)
Free trial: 6 months max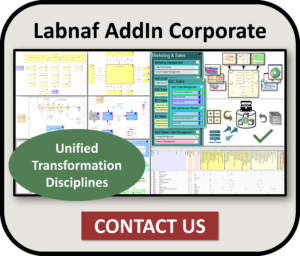 | | |
| --- | --- |
| Standard License | Floating License |
| € 950/license | € 1260 /license |
For small to very large teams managing simple to very complex organizations using a shared database repository.
Enable the many disciplines involved in enterprise transformations to seamlessly collaborate by using the same modeling language, the same process, the same repository and the same tool.
Modeling any aspect of enterprise transformations, plus:
Productivity features
Configurable and dynamic metamodel expressed in the end user Labnaf language itself. Updated in two clicks (the rules and the documentation are one and the same thing)
Dynamic model validation based on default or customized metamodel
On demand diagram generation following templates defined in the Labnaf model repository
Dynamic diagram name prefix generation that helps identify the diagram type
Element values initialization (when you create new elements) following Labnaf templates (models)
On demand value calculation (can be cascaded). Used for developing calculations to be scheduled by the Labnaf PowerShell
Excel and CSV import of elements and connectors (create, update, identifying elements following multiple criteria)
Excel and CSV generation following Labnaf Excel templates (models), including groupings, connections (as matrices) and indirect relationships
Implicit connector generation
Configurable dashboards and reports for dedicated roles
Virtual catalogs that can span multiple packages with auto-generated content selection (used for report generation, exports, calculation, diagram generation, implicit connector generation, charts and dashboards)
Repositories
Full startup repository with template structure and placeholders that is used to model organizations of any size and complexity
Sample repository
Templates for
Word, PDF, RTF, Excel and CSV document generation,
Diagram generation,
Value calculations,
HTML generation (enabling email discussions about diagrams).
Customizing the Labnaf modeling language and tools
Customization workbench (software)
Staging environment (DEV, TEST, PROD)
Language Transformer
Transform any language into the Labnaf language (Professional edition is needed to translate from Labnaf
Sparx Infrastructure  (October 2021 prices)
Required – EA Corporate modeling platform
€ 259 /license (perpetual)
Optional – Prolaborate web UI & collaboration
€ 17 / user /year
Annual Subscription
1295 € /20 active users in a repository
Scheduled/batch operations for architecture industrialization and governance
 Generation
Diagram generation following Labnaf diagram templates defined in the Labnaf model repository.
Excel and CSV generation following Labnaf Excel templates
Word generation following Sparx System's document template approach.
Publication to an HTML site where pages can be shared using standard e-mails.
Implicit connector generation
Advanced Repository Synchronization, Refactoring and Normalization
Advanced repository content synchronization
Automatic repository content refactoring and normalization
Implicit relationship generation
Diagram selection (any criteria) for automatic locking and connector freezing…
Calculation
Automated tagged value calculation following templates defined in the Labnaf model repository.
Model validation
Invalid connector detection and email error reports distribution
Backup
To local model repository
Sparx Infrastructure  (October 2021 prices)
Required – EA Corporate modeling platform
1 single perpetual license needed (€ 259)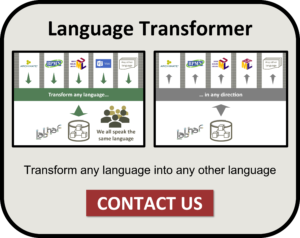 Standard License
170 € /license
Modeling language transformation
of existing modeling elements and connectors in terms of types, stereotypes and tagged values
Enables translation of any language like ArchiMate, BPMN or UML into any other language e.g. Labnaf (and vice versa).
This includes imports from Visio or Archi.