As a CIO, why should I start with Labnaf?
The CIO benefits from Labnaf's all-in-one and ready-to-go nature, which provides an actionable process and supporting tools for various tasks, including visualizing, diagnosing, deciding, strategizing, road mapping, and creating innovative solutions. As a result, the strategy and architecture team can focus directly on achieving business outcomes.
The CIO can also take advantage of the digital enterprise management cockpit which is a consolidated dashboard that provides a comprehensive overview of the most critical information from multiple dashboards. It acts as a centralized control panel that brings together relevant data and insights from various sources, allowing for a holistic and streamlined view of key performance indicators (KPIs), goals achievements, system status, investments, costs, risks, and sensitive information access.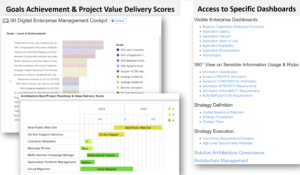 What Labnaf does NOT bring to the CIO
Nightmares about delivering target capabilities and managing architecture capacity. Labnaf secures the entire path from strategy to execution.
A key management role in breaking down silos. Labnaf breaks these silos on your behalf.
Years and millions spent on promises and expensive consultants that will stitch together standards, languages, metamodels, processes, repositories, tools, and blah blah blah. They are already integrated into Labnaf out of the box: An all-in-one and unified vehicle for driving transformations.