Develop superior architecture, strategy, modeling, enterprise visualization and transformation skills
The following courses are available on the on-line Udemy platform
They are highly rated and yet almost free
---
(Framework Concepts and Components)
OBJECTIVES OF THE TRAINING
Understand the typical enterprise transformation challenges, including complementary but disconnected standards, absence of an end-to-end transformation process, multiple languages, awkward semantics, inconsistent terminology, complex life-cycle management, tedious content authoring, inability to coordinate enterprise architecture and solution architecture as a whole, inability to scale, manual governance, etc.
Equip you with the knowledge and practical skills to achieve unification through a systematic approach.
What methods can be employed to merge complementary enterprise transformation standards effectively?
How can we consolidate these standards into a comprehensive transformation framework, encompassing one unified process, one content organization, one modeling language, one metamodel, and one flexible repository structure?
How can we ensure that the resulting comprehensive metamodel remains user-friendly and easy to maintain?
How can we systematically organize information in a universally applicable manner that simplifies the generation of data visualization tools such as charts and dashboards?
Understand the Labnaf process of driving transformations from enterprise visualization and diagnoses to strategy definition, strategy execution, and project/solution architecture.
Understand the Labnaf strategy and architecture content including architecture portfolios, catalogs, elements and connectors, metamodel, active and passive resources, performers including their life-cycle, functional performers, enterprise functions, enterprise function discovery, processes, views and viewpoints.
Understand the Labnaf single shared repository, the sample repository and the language customization/development repository.
Understand the Labnaf productivity tools including import and export, value calculation, diagram and heat map generation, backups, model validation, Excel and CSV generation, Word and PDF generation, web site publication, task scheduling, charts and dashboards, the customization environment, and the language transformer.
Understand people's roles, accountabilities and responsibilities, how these applies to different types of repository content and the implementation in the repository.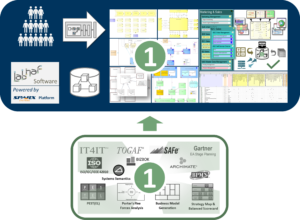 ---
During this course, you will learn modeling with Labnaf and how to organize, share and reuse content throughout the repository content life-cycle. THIS COURSE COMES WITH A FREE VERSION OF LABNAF LITE (NO END DATE).
OBJECTIVES OF THE TRAINING
What you will learn specifically:
How to automatically optimize the user interface for Labnaf.
How to create Labnaf diagrams to represent structure or connections.
How to provide meaningful diagram names.
How to change the type of an existing diagram.
Multiple ways of creating Labnaf elements either one by one or in a row.
Multiple ways of creating Labnaf connectors.
How to generate connectors for child elements.
How to manage connectors visibility on diagrams and prevent undesired connectors to appear.
Understand how the repository is organized into portfolios, catalogs, elements and diagrams.
How to manage the content structure and life-cycle from initial architecture work, to collaborative modeling, architecture approval, integration in the shared catalogs and updating architecture states (As-Is, Transition, To-be).
How to create alternative architecture solutions
Understand where to model what type of content
Jump start modeling a specific model structure by reusing any part of the canonical folder structure
Understand how the Labnaf productivity tools leverage the repository content organization during the architecture content life-cycle.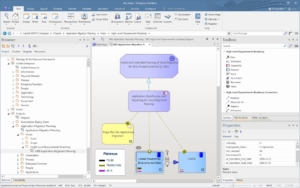 ---
WHAT YOU WILL LEARN DURING THIS COURSE
What are enterprise functions and why they are so important to your organization
Organize and navigate the architecture following the structure of enterprise functions
Get a bird's eye view on a situation using heat maps and other types of chart, and visualize these heat maps and charts using Prolaborate dashboards.
For enterprise architects, business architects and analysts
Create and maintain an enterprise function portfolio using the Labnaf architecture language, methods and tools
Classify architecture and strategy items using the enterprise function hierarchy (also applicable to Labnaf Strategy Definition and Execution)
Create heat maps
NB: We call "enterprise functions", what some others call "business capabilities". Indeed, to model an enterprise, we need unambiguous terms. And as a matter of fact, the term "business" is quite vague. And the term "capability" is overloaded.
OBJECTIVES OF THE TRAINING
What you will learn specifically:
What enterprise functions (aka business capabilities) are and why you need those.
Learn how to identify, visualize, analyze and optimize
enterprise functions (groups of enterprise activities)
how they are logically structured
how they interact
information they exchange
access point they use (face-to-face, EDI, email, web site, phone…)
which ones are differentiators
which ones are externalized
how they are realized by software, people and equipment
Learn how to create, publish and navigate base maps, heat maps and charts
The difference between holistic and selective heat maps and charts
Create base maps and heat maps using auto legends
How heat maps and charts leverage imports, cascaded calculated values, and diagram generation
Generate and zoom into functional application diagrams
Use the Prolaborate portal to navigate dashboards, heat maps and other charts
Generate enterprise function portfolio reports
Learn how enterprise functions are used for organizing enterprise strategy and architecture data
applications, information, processes, target capabilities
assignment of functional domains to people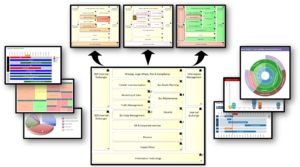 ---
See also: The complete Labnaf training catalog