Why should I start with Labnaf?
---
---
Labnaf rationalizes enterprise visualizations and transformations from day one
using an all-in-one and unified solution that is ready to go.
It provides organizations, of any size and complexity, with
direct and continuous collaboration with a single framework.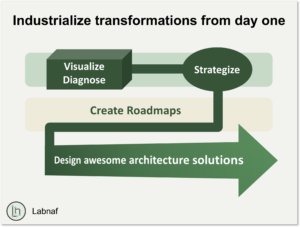 Labnaf  is a software and unified framework for visualizing your enterprise and for driving transformations. It brings productivity, consistency and cross-discipline collaboration by unifying and extending standards into one single process, modeling language and software.
Labnaf helps you understand your organization, envision its future, plan transformations and describe architecture solutions using multi-dimensional models, charts, analysis, reports and many other productivity featurtes. You can also optimize the impact of your communication by using C-level dashboards and navigation accessible anywhere.
Labnaf tools are robust software implemented on top of the Sparx Systems' modeling and visualization platform. Sparx is the most common, yet very affordable, modeling platform (more than 1 000 000 licenses worldwide).
Labnaf Key Features
Unified Standards – Unified Framework – Unified Disciplines for Driving Transformation
A selection of meaningful and useful concepts from strategy and architecture have been semantically merged (and fixed when needed) into one single transformation process, modeling language, metamodel, structure and flows of viewpoints, repository structure and software. These standards include

ISO/IEC/IEEE 42010

,

IT4IT

,

TOGAF

,

ArchiMate

,

BPMN

,

PESTEL Analysis

,

Porter's Five Forces Analysis

,

Value Proposition Canvas

,

Business Model Canvas

,

Strategy Map & Balanced Scorecard

,

SAFe

,

Gartner EA Stage Planning

, BIZBOK, GDPR, SCU Data Classification Standard, ISO 27000 Information Security, NISDUC. The single default metamodel was normalized using systems semantics which are derived from the natural phenomenon.
ONE powerful and scalable software product and a repository implementing the process and modeling language
The Labnaf process of driving transformations, the modeling language and the repository structure are independent of their software implementation.

The current software implementation is provided as a robust Sparx Enterprise Architect software extension
Educational Material
Unified Transformation Process
---
The process is used for driving changes to the enterprise. It can be seen as a full implementation of the IT "Strategy to Portfolio" value stream, which is the first step in the IT Value Chain, as defined in the IT4IT standard.
"The Open Group IT4IT™ Reference Architecture is a standard reference architecture for managing the business of IT. It uses a value chain approach to create a model of the functions that IT performs to help organizations identify the activities that contribute to business competitiveness."
---